About Cougar Gulch Group and Contact Information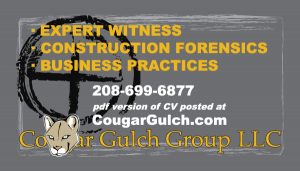 Dean Isaacson is a Certified Safety Administrator and a member of the National Association of Safety Professionals. Since 1975 he has been a general contractor in the states of Washington and Idaho. He has experience building large and small projects with safety management training. He has built everything from homes to commercial buildings; and he is available as an expert witness for resolving construction disputes.
If you have a small business, let us help you establish a working accident prevention program.
If you have a construction project, let us help you with project management services.
If you would like to get your business on the web economically with a solid presentation, please feel free to give Dean a call.
We always stay on budget and deliver on time.
Our contact information is:
Cougar Gulch Group, LLC
PO Box 178
Hayden, ID 83835
phone: 208-699-6877